How To Use Massage Chair
2023-05-07
  The first fully automatic massage chair was made in 1960s Japan, though the decade of market cultivation, the intelligence level of massage chairs has reached a very high standard. Dozen of massage programme and function are available. For instance the 3D simulate massage technique, intelligence body scan, AI voice and so on. But the question often rise about how many programs or function i need when i buy massage chair and how to use massage chair. In this article we are going to tell you all the information about the massage chair
1. How To Setting Your Massage Chair Setting
  1. Know your massage chair function and features
   2. Try the different massage programme
   3. Saving the setting as default
2. What you need to consider when you buying a massage chair   
  1. Massage function and setting
  2. Track of your massage chair
  3. Massage chair size
   4. The price of massage chair
3. What you must know how to use massage chair.
 1. If you are new to massage chair, start slowly let your body accustomed to the frequency massage.
 2. Target on the area of body you want to massage.
 3. total contraindications and local contraindications. 
How Do Massage Chair Work
Your massage chair is powered by an electric motor that brings the mechanical arms with massage heads and rollers (made of silicon material) into motion. (Generally speaking, the more powerful the motor, the more intense the massage.) The rollers move along the line of the spine from neck down to the lumbar region, they move in different sequences, with with appropriate speed, force, but also in different planes and widths. In the case of 3D massage, the rollers press deep into the flesh as well. The trajectories of massage arms and rollers were designed to simulate the movements of a masseuse's hand. The rollers apply pressure through the upholstery of the chair. Nowadays most of massage chairs provide comprehensive function and superior performance.
Programme of massage chair 
Since the beginning of the 21st century, after decades of market cultivation, the intelligence level of massage chairs has reached a very high standard. There can be as many as dozens of massage modes and techniques available, such as airbags massage, leg massage to make one massage chair suitable for the whole family to use. In addition to improving the massage experience, massage chairs also have added many entertainment features, such as Bluetooth speakers, wireless charging interfaces, and more. Therefore when people buying a massage chair, they will have difficulty in choosing a massage chair with so many functions. Here we describe the role of massage techniques.
  Massage chairs always feature several pre-set functions that can be easily activated by pressing a button. These programs make it easier for you to access the most commonly used functions. The number of pre-set programs varies from model to model.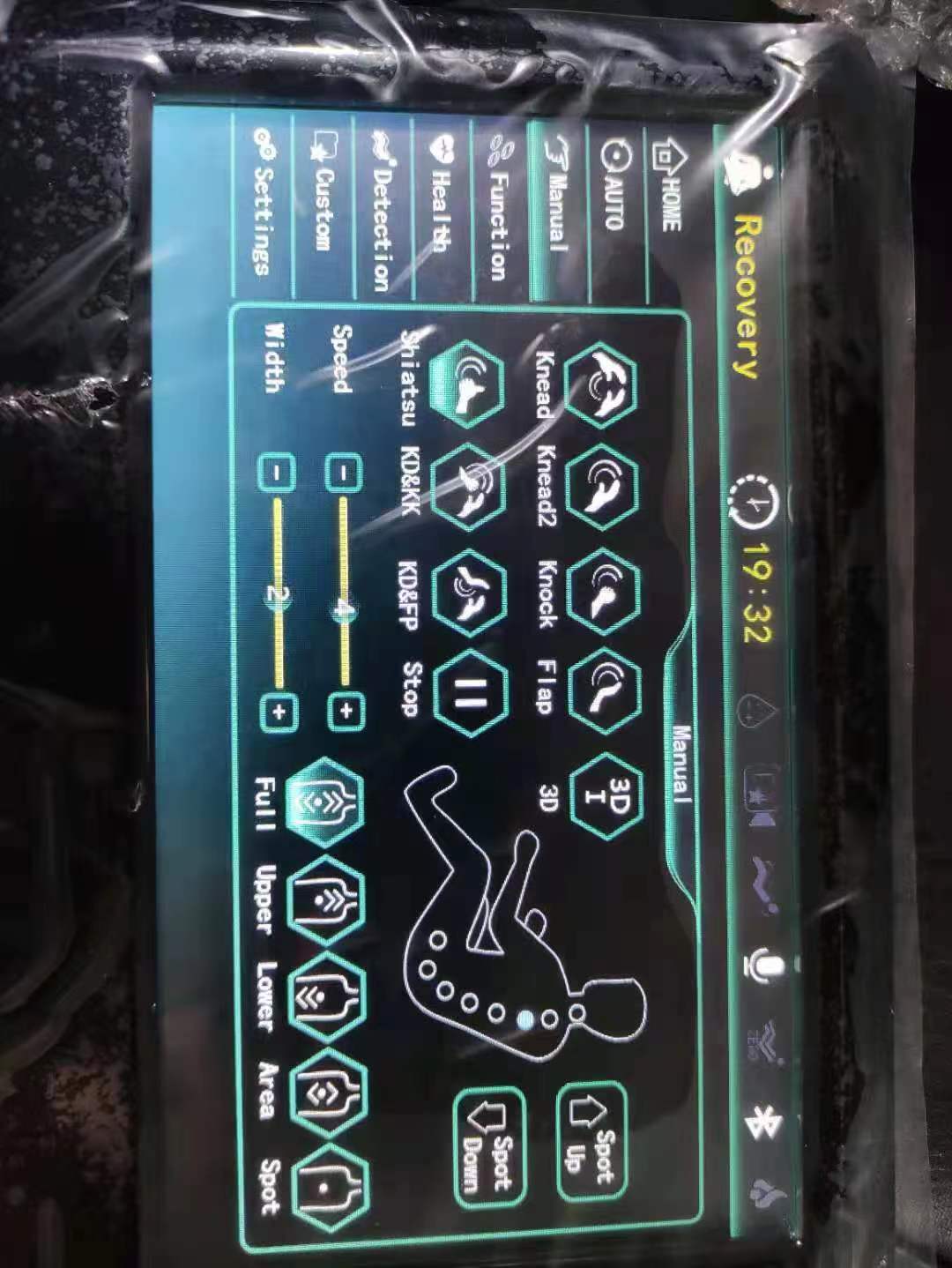 If the pre-set programs don't meet your requirements, you can adjust the settings to get the kind of massage you prefer. The memory of a massage chair can retain a limited number of saved programs, so that your favourites will always be available to you. When adjusting massage manually, you can choose from various types of massage. Each type simulates a different type of massage technique, and each of them have their own different effect. The massage chairs we manufacture feature the following types of massages:
Kneading :Kneading will relieve muscle pain and pleasantly relax your entire back. The pressure stimulates and improves blood circulation in your muscles. During the massage, the pressure of the massage rollers alternates. It is a basic massage mechanism for relieving muscle stiffness.
Flapping: Flapping is an intense rhythmical movement with the massage heads and rollers placed at more of a distance. Massage speed can be adjusted at will. This type of massage improves your blood flow as well. It is therefore used for releasing tension from stiff muscles and relieving stress.
Knocking: Massage heads and rollers are programmed to rhythmically press on muscles in short intervals and then retract. This gentle massage is great for revitalizing fatigued muscles.
Simultaneous kneading and knocking: For this intense technique, massage rollers move in circular motions typical for kneading, as well as knock rhythmically. This sort of combined massage is suitable for reducing pain in deep muscles.
Grasping: Grasping is a massage mechanism during which massage rollers move against each other, simulating a masseuse's grasping fingers. This technique is focused mainly on the shoulder area. 
Shiatsu massage: Shiatsu is a type of massage originating in Japan. This massage is based on activating acupressure points in order to restore the energetic balance in your body. During regular massage the pressure is applied through the fingers of a masseuse. In a massage chair, it is the massage rollers that press against the acupressure points. The purpose of a Shiatsu massage is to unblock energy pathways and to relax your body.
3. Chair Adjustment--Zero Gravity
The backrest position can be adjusted for every massage chair, though the question is to what extent. Most massage chairs have backrests adjustable at least to 50° so you can relax as much as possible. Higher-class models feature the "Zero Gravity" function that adjusts your body into a position with your feet placed higher than your heart. The headrests of more advanced models can also be adjusted according to your height

If the user isn't of average height, an adjustable footrest is an important feature to consider as well. The user should feel as comfortable as possible during the massage, which can be an issue if the footrest is too short. Adjustable footrest will help you adjust the lower half of the chair into an ideal position for your massage.
What are some things to consider before buying a massage chair

 
  Compare the massage experience in home and shop, Numerous of people do not satisfy with massage experience at home, even massage chair equip with Bluetooth, 3D movement, body scanning and airbags massage.  This is very common problem, because lots of people do not familiar with massage chair setting. Conversely you will get better massage experience in the shop, cause salesman help you set the typically program to effective massage on your specific area based on what you told them about body condition. Here is the tip for you when you plan buy massage chair, you need to know what kinds of programme and setting you need. We list 4 points information about the massage chair:
1.Functions of massage chairs:
Low-end massage chairs usually offer simple vibration and rolling massage. On the other hand, high-end massage chairs offer a wide variety of features like kneading, rolling, flapping, simultaneous kneading and knocking, and heat therapy. Please keep in mind, more functionality in a chair, the price of chair more higher.
2. Track of massage chair
When you decide to take the plunge and buy the massage chair of your dreams, be sure to consider the range of the rollers. This is indicated by the type of track the massage chair comes with.
What is the S track?
The S in S-tracks means sinusoidal, which means wave. It signifies the shape of the human spine and the track that the rollers move in to massage your body. The S-track consists of a slight curve that mimics the human spine. The rollers in the S-track can adapt more accurately to your body contour and give you enhanced comfort. The roller begins at the neck top in a forward position and continues till the mid-back. From here, it retracts a little and continues moving forward again. This movement allows a natural massage sensation for the user while following the curvature of the spine.
Most S-track massage chairs have a roller track length of 27 to 33 inches cutting off at the tailbone. With S-track chairs, you can lay out flatter for finer stretching moves. The S-track massage chairs are more precise with the roller motion especially, in combination with the 3D or 4D massage technology. You can feel more relaxed as the S-track rollers massage up and down your spine curvature, targeting all pressure points on your back.
 What is L track      
L track massage chairs work almost similarly to S-track chairs but have an extended track covering the lower body parts. While an S-track would only go till your tail bone, L-track chairs can massage as down as your hamstrings or buttocks.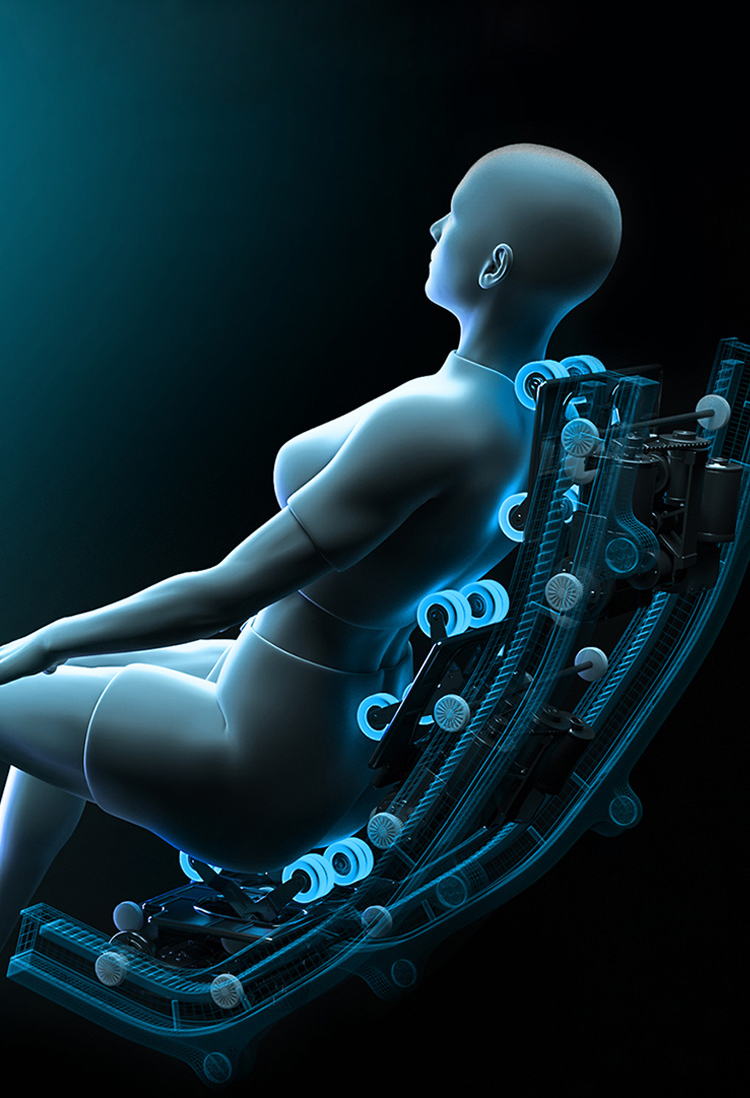 The L-track rollers extend into the seat of the chair, roughly creating an L shape. More manufacturers are introducing L-track chairs because of their extended reach.massage chairs work almost similarly to S-track chairs but have an extended track covering the lower body parts. While an S-track would only go till your tail bone, L-track chairs can massage as down as your hamstrings or buttocks. The L-track rollers extend into the seat of the chair, roughly creating an L shape. More manufacturers are introducing L-track chairs because of their extended reach.
L track massage chairs are beneficial for those suffering from gluteal pain or sciatica, as it uses mechanical rollers to relieve pain from these problem areas. L-track chairs have a roller track length of 40 to 53 inches. The extended roller track continuously moves from the top of the head downwards to the hamstrings, creating a full-body massage sensation for the user. Those suffering from piriformis syndrome or sciatica near the pelvic muscles can benefit from L-track massage chairs. The L-track chairs can also be suitable to relax sore buttocks and hamstring muscles. Chairs with L-track rollers can stretch the muscles, which connect the spine to the lower body or hips. 
The S/L track is one of the newest features introduced in massage chairs. This type of track is a combination of the existing S-track and L-track rollers. The S/L track massage chairs offer a superior quality massage experience for the user, as S/L track rollers contour the spine along its curvature like an S-track and extend to the chair seat to massage the hamstrings and buttocks. 
Some massage chairs can be adjusted to accommodate a range of heights, and some feature adjustable roller widths.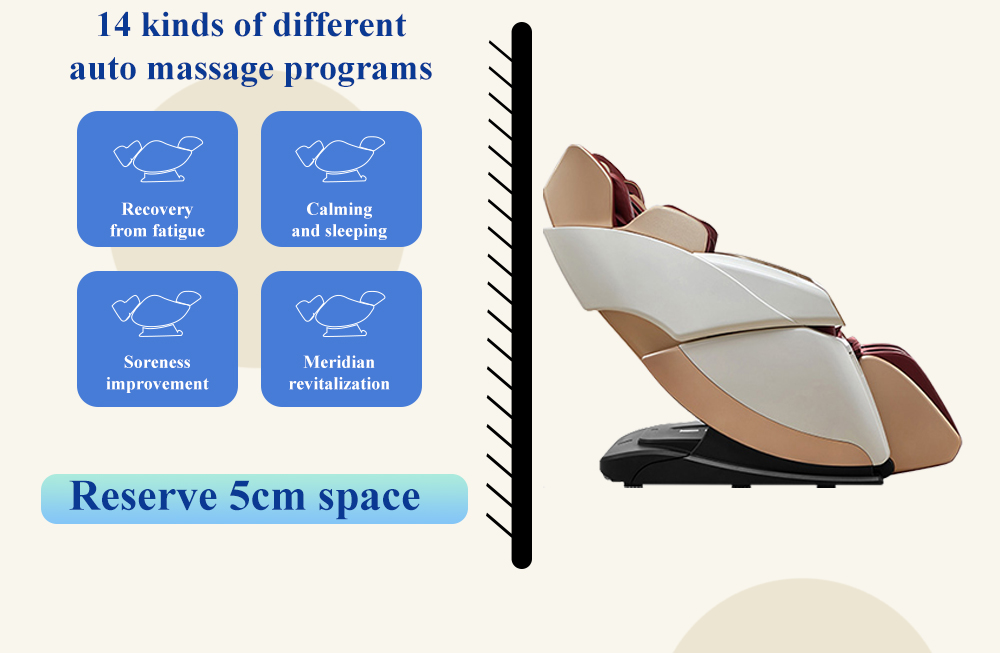 Massage chair size 
 Most massage chairs are weighty, massive furniture that you can't simply put anyplace. The lounge may not generally be the opportune spot for massage chair on the grounds that, despite its attractive features, they can disrupt the overall décor of your room.
Although the massage chair is for personal use, placing them in your home, office makes the sense. However , your bedroom or office have to have enough room to house a massage chair
In addition to its bulky shape and size, the chair might also include head and foot recliners so you can't necessarily put them in a corner or near walls. Make sure that you measure your room properly and calculate how much space you're going to need for a chair before getting one.
Nowadays numerous of massage chairs include zero gravity feature. So you can place you chair just 2 inches or less away from the wall. However the massage chair, which Meiyang manufacture, you only need reserve 5 cm from the wall. When they do the recline, the chair will gently slide you forward and then recline you back. This can save you a lot of room compared to chairs that do not have the space saving feature. If the chair without the zero gravity feature, it require about 2 feet of clearance space between the wall and where you place your chair. Some massage chairs come with wheels so they can easily be moved around. With these chairs, you can keep them at a place while not in use and move them to a spacious area when you want to have a massage.
What is your budget 
    Buying a massage chair is a hefty investment. The cost of a massage chair ranges from few hundreds of dollars to thousands of dollars depending on a lot of factors including, but not limited to, its features, appearance, the manufacturing company, and the type and quality of materials used in the chair.
High-end massage chairs with several features, expanding air bags, aesthetically-pleasing appearance, USB ports, and music players can cost you well above $5,000.
But don't let those prices scare you away from your investment. You can cut out features that you are least likely to use, sacrifice the luxury of in-built music players and USB ports, and compromise a little on the appearance to get a chair for a price that fits your budget more.
What you must know how to use massage chair.
If you are new to massage chair, you should start off slow that let your body accustomed to frequent massage. You can increase the sessions from one to two session per week. This is a way to prevent your muscle do not get soreness.
 Most of chair comes with lots of functions,so explore all of massage chair features and setting before settling into routine, and target on the area of body you need it most. Then you can fullest enjoy the massage process. You also can use the control to adjust the chair to fit your body perfectly.
As we know, before the work out, you need to do warm up to prevent injury. So as to massage you body, you consider selecting a gentler massage setting prior to diving straight into intense deep tissue styles and consider using any heating function present to warm up your muscles for the first few minutes. You should also stretch before and after.
Some of people will exercise as much as they can to built up pectoralis minor or keep the shape of body. When you over do exercise will cause injury. Similarly, when you over massage will cause the muscle pain and back pain. However, massaging injured parts of the body can do more damage than recovery.
Even though massage chairs, and massage in general, can be excellent tools to get rid of muscle pain and back pain, if you already have severe muscle pain or other kinds of health conditions, massaging the afflicted area might be harmful.
Total and local contraindications
A total contraindication means that you should not seek any massage therapy until the condition improves. A local contraindication means that you can attend massage therapy, provided that you can avoid massaging the afflicted area.
Total contraindications might include:                                                   Local contraindications might include:
1. High fever                                                                                            1. 

 Exposed veins
2. Recent operation or acute injury                                                         2. 

Undiagnosed lumps
3. Severe hypertension                                                                            3. 

Large bruises
4. Irritable skin conditions                                                                       4.  

Open cuts
5. Osteoporosis                                                                                       5. 

Sunburn
                                                                                                                 6. 

Areas of local surgery
In Asia, several health institutes have warned against the use of massage chairs for elderly people with osteoporosis or fragile bones. A massage chair does not have the same minute sensitivity as a human masseur, and there have been several examples of injury. For this reason, massage chairs are not recommended for the elderly with frail bones.
Always have your physician on board
Massage chairs have many benefits, but it's important to use them with care, especially if you are a beginner. The most importance thing when you are struggling with any injuries and are buying a massage chair for health purposes, be sure to consult your physician or a physical therapist before use.
FAQ: 
1.  Is it OK to sit in a massage chair every day?
   If you use it daily, it is recommended that you keep each session to a maximum of 20 minutes and that you only do this twice a day.
2.  What is the best way to use massage chair?
   be sure to target areas of your body that give you trouble.
3.  What is zero gravity mode in the massage chair
   In a zero gravity massage chair, you can recline all the way back to the neutral body position. Raise your legs above your heart level and evenly distribute you weight along you body.
4.  What angle should be a relaxing chair be
The angle that has been shown to be optimal is 20-30 degrees forward and down. This puts the thighs at an angle between 120-135 degrees.
5.  Is it ok use massage chair every day?
   Maximum 15-20 mins per session, twice a week. Overuse the massage chair can led to mild health issues. In case you have a severe medical history, you should ask your doctor before using a massage chair
6. When you lie on chair do you feel all the mechanisms poking your back
Maximum massage time are 15-20 minutes, If you sit for too long, you would feel all the mechanics on the back.
7. Can I use the zero gravity part without the massage features
Inclusion about how to use massage chair you should familiar with the programme and setting before use the massage chair and remembering to focus on the areas that need it most, you'll see quicker and better results over time.
With the iterative update of products, you will find lots of programme and setting in massage chair. Therefore, you must purchase a massage chair that suits you according to your own needs
.